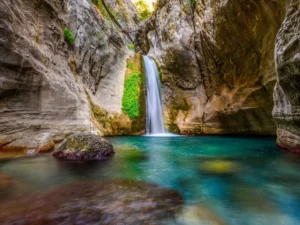 Gedevet plateau
If you buy an apartment in Alanya, you will be close to the unique beauty of the Alanya highlands. Associated to Gedevet plateau is the village Gedevet, a village located 21 km from the city and at an altitude of 1,100 m above sea level. Along the paved paths you can comfortably drive up to the village that is built with apartments, villas and farmhouses and since 2006 there are picnic areas with restaurants where you can get a snack or Turkeys special pancake "Gözleme". Highland tourism has been given a prominent place in Alanya, it has become popular among both locals and tourists to go up to Gedevet plateau to escape the worst heat during the summer months. Because of the altitude, the temperature is several degree lower than the sometimes overwhelming heat down in Alanya.
Among camellias surrounded by dense pine forests are picnic areas with tables and benches, where you can enjoy your own packed meal, and there are also public toilets in several places. Tall sycamore tree in the middle of the plateau is worth a visit. After a day in Gedevet, with pine-scented lush forests and lovely greenery you will feel rested and refreshed.
Dere köy
A little north of Gedevet one finds the village of Dere köy, about 30 km from Alanya along paved roads.
On the southern slopes of the valley, down towards the river Kargı, are gardens with fruit and vegetable crops mixed with pine trees. Domestic and foreign tourists visiting gladly teahouses in Sirinköy, there are also markets, medical center, restaurants serving meat dishes and fish.
A great place for day trips and picnics, forests are suitable for a relaxing walk.
Gokbel plateau
Gokbel plateau is the place where people in Kestel spend the summer, among Alanya's high plateaus are this the most popular for its natural beauty.
Kestel is located on the Mediterranean coast, but leans to the west back towards the Taurus Mountains. Gokbel plateau is located in the center of the Taurus Mountains, and this is the place where locals in Kestel emigrated during the summer for hundreds of years. Still, it is popular to live a nomadic life in the summer, and as many as 80% of the people living in Kestel has its own summer home up in Gokbel.
Tokar Söğüt highlands
Demirtas belonging Alanya has several beautiful plateaus in the Taurus Mountains in the north, where it is possible to get along gravel and asphalt roads. Kas Plateau is located about 30 km from the town, Sapadere plateau 35 km, Tokar plateau 40 km and Söğüt plateau is about 50 km away.
Citrus plantations, greenhouses, plants, bushes and pine trees, along the way you can sometimes overlooking the beautiful river Sedre passing Demirtaş society before it flows into the Mediterranean.
Orchards, rural highland meadows and mountains covered with flowers are in original condition. In the villages located around the plateaus can find telephone, picnic areas and rustic restaurants. Along with Sedres beach you can camp out and try your luck with a fishing pole.