October Update Türkiye | New Rental Rules, Our Agents Avertiss, Cost of Living…
Welcome to best invest / Forbes Global Properties October update. The holiday season is not over yet!! We are delighted to see our multi-national friends, clients and new acquaintances visiting and returning to the Alanya region. Enjoy your stay!
The fifth floor of our Sunset Panorama Project has been completed and works are continuing steadily. You can now get a feel for the extents of the panoramic views. We still have options available for any interested parties.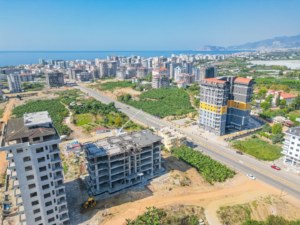 _______________________________________
Our After-Sales & Rental Manager, Elena, has been extremely busy and is currently taking bookings for the end of the season and next year. She is available at [email protected] to discuss all your needs.
_______________________________________
We are continuously assisting clients with advise and direction with respect to obtaining an Ikamet (living licence). The principle requirements are:
1) Ikamet based on a rental property in an open area. This has limitations and is not always the most successful route for some nationalities.
2) Short stay Ikamet based on the purchase of a property with a minimum registered value of $75,000 in an open area (first applications are normally granted for a 2 year period). This method is generally successful for the majority of applicants.
3) Citizenship based on the purchase of a property (or combination of properties) with a registered value of greater than $400k. This process have been successful in Türkiye for many years and includes for the registered owner, their spouse and children.
4) A Capital Investment Worth at Least $500,000.
There are some other options which are also acceptable and several procedures associated with the application. For further assistance and advise, please click HERE.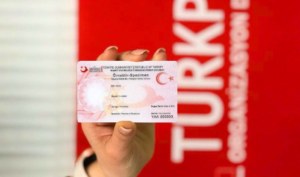 _______________________________________
As the winter months are closing in on us, we are delighted to welcome back our multi-national Expat communities, who join us every winter. This community is growing year on year and Türkiye continues to be a principle or second home for many. They tell us that they keep returning because the cost of living here is substantially less than in their home county and that the average temperatures rejuvenates them. In addition, the Alanya region provides all year round facilities, entertainment and activities, and has a strong association with the Expat community. This trend is reflected in our business as we see an increased demand for rental and the purchase of retirement properties during the autumn and winter months. For further assistance, please click the button below and we will facilitate all requests.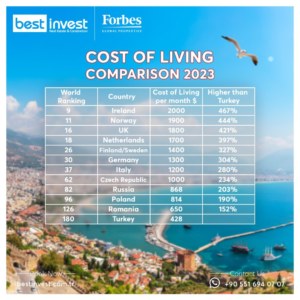 _______________________________________
best invest | Forbes Global Properties are continuing to expand our business and extend our network to a more global audience. We are delighted to welcome our in-house Arabic and French speaking Sales Manager, Nesrine, as part of our expansion. She is a available at [email protected]. We are also in the process of finalising cooperation agreements with many other real estate professionals in a multitude of nations. Over the next few weeks we will have a new update to our website to reflect these new markets and we look forward to providing a broader range of services to our international clients.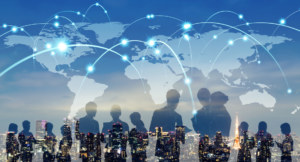 _______________________________________
We are also delighted to introduce one of our Forbes Global Properties Agents, Avertiss, Kyrenia Cyprus. They are an extremely active, progressive and professional partner and we are delighted to be working with them. It is our pleasure to present one of their exclusive properties as part of this update. Details are included below.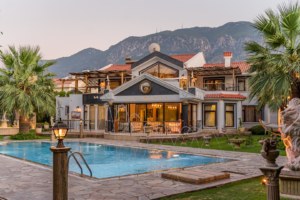 Introducing a Unique Villa with Retro Glamour: Med's Exquisite 'Scarface' Mansion

_______________________________________
Here is a flavour of our current property portfolio, you can see all available options by clicking on this link https://bestinvest.com.tr. If you need any further assistance or just want to say hello, please do not hesitate to contact us by email, website or social media platforms on 00905516940707.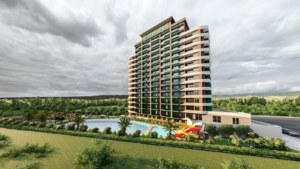 Comfortable and Modern Living Opportunities in Mersin Mezitli
Starting Price:  65.000  €
_______________________________________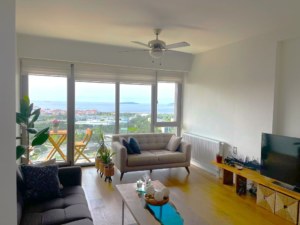 Unique Comfort with City and Sea Views: 2+1 Apartment in Istanbul Maltepe
Price: 425.000 €
_______________________________________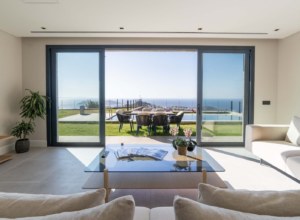 Seaside Elegance: Luxurious Villas in Bodrum Await Your Arrival
Price: 1.200.000 €
best wishes from the best invest team, we look forward to hearing from you all!
"you deserve the best"